Donahue Pass area
Heart Lake is really more of a lakelet, it's heartly big enough to be a designated lake. But it was very pretty. Too bad, photographically speaking, it wasn't good Velvia lighting, but oh well. Most of my 90 rolls are trailside handheld snapshots like this one. You can see the JMT on the right side of the lake in the meadow, which works its way up the ridge on the right, up over that notch, and up to Donahue Pass which entails crossing those big boy mountains beyond. It was our first really big pass on our trip, as Donahue Pass is on the border between Yosemite National Park and the Ansel Adams Wilderness. This is huge country, even though my 17mm makes it all seem so teeny. We had to cross this lake at the outlet stream, which was a pretty cool boulder hop.

You can see the JMT skirting the left side of the lake near the outlet before it makes its way up the steep rocks. We spent some time down there near the outlet just hangin' out for a while, kicking marmots, spearing squirrels, and burning ants with magnifying glasses. I had met a good friend (mostly by chance) on the trail as we cranked up this steep section. He was hiking the other direction on his quest to crank out the entire PCT over many years, one section at a time. He invited me to do this section with him but it coincided with Jim and meeze JMT hike, so we had hoped to cross paths, and we did.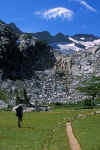 We had a nice leisurly day the day before, only 8 miles of level walking alongside a beautiful river. Our shortest hiking day of the entire trip. And now we hafta hit the crest of the Sierra head on. Is it too late to turn back? NEVER WILL WE TURN BACK! But... let's just hang out for just a bit longer and enjoy the last of the green grass and warm sunshine before we crank up that sucker. And this was the easy part of the JMT. Who's freaking idea was this, anyway? I blame Jim.

We waited around for a bit near these stairs, hoping this was really an escalator. But they never moved and we couldn't find an "on" button anywhere, so we went ahead and climbed them. Some sections of the JMT are pretty elaborate, other sections are pretty crude with serious stream crossings. We found nice bridges over some creeks, and no bridges whatsoever over some of the larger creeks. We couldn't make sense out of it, but for me, the cruder the trail, the better. This section of granite stairs is above Heart Lake still heading towards Donohue Pass. No oxygen was inhaled during the making of this photo. Jim just called a couple days ago. This year we're doin' a crazy insane High Sierra trip from Cedar Grove over Granite Pass into the very remote Lakes Basin and back down to Cedar Grove.
This is near the border of Yosemite National Park and the Ansel Adams Wilderness. In this shot, all the gloriously big peaks are behind us, but this pic shows a few nice yellow flowers that were still clinging on to the fading summer. Most of the flowers had peaked and disappeared by the time we hiked the trail. But hey, no skeeters. Jim tooted right when I took this shot. I was lucky to keep my composure. We made it to Thousand Island lake that evening and it was raining by then and a bear came through our camp. But that's better than seeing a mosquito.